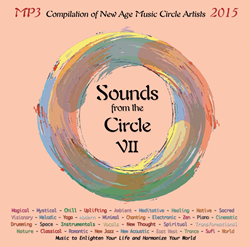 Los Angeles, CA (PRWEB)
July 01, 2015
The Sounds from the Circle are ever-changing, as evolutionary and endless as the Circle itself. Every year, new artist members join the unique online community and contribute to its annual compilation, while others take pause to rest and rejuvenate, awaiting the next calling of their muse. For the seventh straight year, the New Age Music Circle – an online community of over 1700 artists – releases a refreshing new sampler presenting a microcosm of today's vibrant international New Age music scene. It is available from participating artists in CD format, as a SFTC playlist on Spotify and via special promotions on Twitter @SoundsFTCircle using #SFTC7. There is also a dedicated presence on Youtube and Pinterest, a new outlet for this year's release.
Sounds from the Circle VII is the seventh in a series produced by the founder of the network, New Age music consultant and pioneer, Suzanne Doucet of Only New Age Music, and associate produced by Beth Ann Hilton, of The B Company. If played continuously, Doucet says, Volumes 1 through 7 would provide approximately 28 hours of music, ranging from sweeping cinematic pieces to relaxing space music to exotic world beats. The producers and artists provide the compilation to hundreds of internet and terrestrial radio stations and websites around the world for airplay and giveaways.
Doucet says, "Each compilation takes on its own unique feeling, depending on the music submitted and how I am guided to curate it; this one, Volume 7, has a very lush sound to it overall. Since there is not one particular 'New Age' sound like in other music genres, our compilations are eclectic, yet carefully sequenced to take listeners on a relaxing sonic journey. When you look at the list of contributing artists, you'll see that we include top composers from TV & Film, alongside GRAMMY® winners, ZMR Award winners and the best developing artists we can find from all over the world."
Higher quantities of New Age albums than ever are being submitted to the world's major music awards shows, and, Hilton – a media specialist in the niche — estimates, at least a dozen new media outlets dedicated to the genre have emerged in the last few years.
"New Age music is a very broad genre, and has updated its sound over time; it's not what most people assume it to be," Hilton says. "Most of the artists embracing the genre are individuals dedicated to making great music to help others – from either a healing or inspiring perspective – although others simply want to make incredible soundscapes. There is room for everyone. Many use their own time and money, self-publishing and self-distributing, because they can; they're way ahead of the DIY curve. The best of this music has always been heartfelt, visionary, and painstakingly produced. You'll hear achingly beautiful acoustic guitar, lush piano, didgeridoo, Native American flute, dulcimer, vocals, electronica, and sweeping instrumental pieces on SFTC7….and more. We're very proud of these musicians and the music; they work very hard, and they have a lot of talent to share."
Previous volumes of SFTC were lauded on renowned websites like New Age Music Odyssey, New Age Universe, and chosen as "Albums of the Year" by Reviews New Age and New Age World Music. In recent years, international radio programs such as Radio Despi's La Otra Orilla in Spain or Radio Plenitude in France have dedicated entire programs to playing the compilation start to finish. Doucet and Hilton say they are eager to provide the compilation to any and all programmers who want copies for airplay and giveaways, available via e-mail request to bethhilton (at) theBcompany (dot) com, subject line: Radio Request.
The 49 participating artists and groups on SFTC VII's include New Age Music Circle members (in chronological order) Ricky Kej & Wouter Kellerman, Fiona Joy, Minstrel Streams, Bryan Carrigan, Sean Christopher, Lia Scallon, Isadar, Spencer Brewer, Michael Dulin, Sherry Finzer, Jennifer DeFrayne, Pamela Jamian, Rupam Sarmah, Mythos, Lisa Downing, Peter Kater, Kristin Amarie and David Lanz, Denise Young, Anima, Merrill Collins, Bill Wren and Frank Ralls, Mark Pinkus, Tron Syversen, Louis Colaiannia, Michael Hoppé and Giuditta, Heidi Breyer, John Morgan, Joniel, Sensitive Heart, Peter Garnvik, Jerry Rockwell, 7and5, J. M. Quintana Cámara, Pete Calandra, Vibeke Sonora, Dr. Sounds, Michael Joseph, Anaya Music, Elise Lebec, Antje Nagula, Lynn Yew Evers, Natascha Wilczek, Tajalli, Zamora, Luna Blanca, Sunsaria, Suzanne Doucet, Jon Richards, and David Vito Gregoli.
This year, several thousands of the compilations are being distributed at music conferences such as MIDEM, the ZMR Awards and INATS, and conscious lifestyle events such as GATE, Sustainatopia, Whole Life Expo, Kirtan Festivals and more. Yoga Centers, massage therapists, office managers, and wellness practitioners who receive the album at such events enjoy the ability to play over four hours of relaxing music from a single CD.
The physical compilations, manufactured by TSI Digital Media, can be played in MP3-compatible CD players or in computer CD-ROM drives, and will download into iTunes. Packaging is a colorful eco-friendly cardboard sleeve with inserts listing each artist's name, track, album title, cover art, and website address.
View the complete SFTC VII discography at Discogs, created by participating artist, Isadar.
For more information, media review copies, and promotional giveaways, contact Beth Ann Hilton, The B Company, bethhilton(at)theBcompany(dot)com, at 310-560-8390. To join the New Age Music Circle, simply go to http://newagemusik.ning.com,
About The New Age Music Circle & Sounds from the Circle VII:
The New Age Music Circle – an online community of over 1700 artists, industry professionals and fans –presents its seventh MP3 compilation in as many years with Sounds from the Circle VII. Produced by Suzanne Doucet, founder of the Circle, the compilations have become favorites among music fans as well as professional radio programmers and wellness practitioners who appreciate the ability to play almost four hours of music without stopping. Just a sampling of the New Age music sub-genres included are Mystical, Chill, Ambient, Meditative, Vocals, Nature, Trance, World, Solo Piano, Space, Electronic and more! Sounds from the Circle VII is available in both physical format and duplicated in online playlists. The Sounds of the Circle compilations are always eclectic, showcasing the wide range of inspiration, interpretation and musical vision within the New Age genre from countries across the globe including the USA, Canada, Australia, Argentina, Brazil, England, Scotland, India, Malaysia, Norway, Sweden, Germany, Singapore, Philippines, South Africa, Spain, Venezuela and more. Find out more about this music, or to join the New Age Music Circle at newagemusik.ning.com
SFTC VII participating artists and groups include:
Ricky Kej & Wouter Kellerman , Fiona Joy , Minstrel Streams , Bryan Carrigan , Sean Christopher , Lia Scallon , Isadar , Spencer Brewer , Michael Dulin , Sherry Finzer , Jennifer DeFrayne , Pamela Jamian , Rupam Sarmah , Mythos , Lisa Downing , Peter Kater , Kristin Amarie & David Lanz , Denise Young , Anima , Merrill Collins , Bill Wren & Frank Ralls , Mark Pinkus , Tron Syversen , Louis Colaiannia , Michael Hoppé & Giuditta , Heidi Breyer , John Morgan , Joniel , Sensitive Heart , Peter Garnvik , Jerry Rockwell , 7and5 , J. M. Quintana Cámara , Peter Calandra , Vibeke Sonora , Dr. Sounds , Michael Joseph , Anaya Music , Elise Lebec , Antje Nagula , Lynn Yew Evers , Natascha Wilczek , Tajalli , Zamora , Luna Blanca , Sunsaria , Suzanne Doucet , Jon Richards , David Vito Gregoli. Connect with them all at the New Age Music Circle at newagemusik.ning.com.